Welcome to Grocery Innovations Canada 2022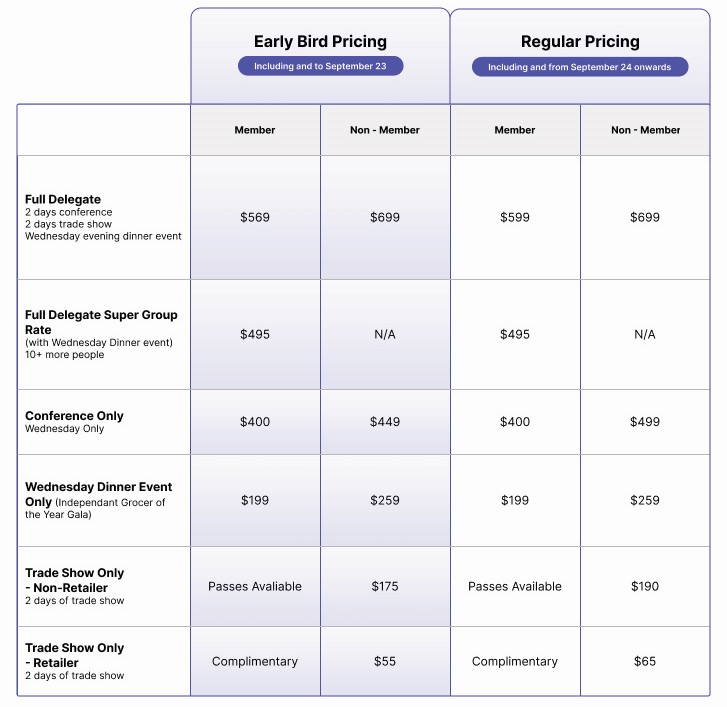 To qualify for a Trade Show Only – Retail pass, you must work for any full independent, franchised or corporate grocery store operating in at least four departments of the following: dry grocery, produce, meat, frozen, dairy, bakery, or deli. If you register for a Retail Trade Show Pass and you do not meet these requirements, your registration will be updated to reflect the correct badge and pricing. All registrations are subject to approval.
ADDITIONAL INFORMATION: Visit the Grocery Innovations Canada site HERE for updated information.
REGISTRATION POLICY: Registrations received after registration rate deadlines will automatically be processed at the stated rates.

TRADE SHOW ONLY - RETAILER ONLY passes are available to any full independent or franchised retail store operating in at least four departments of the following: dry grocery, produce, meat, frozen, dairy, bakery, or deli. These passes are subject to approval by GIC Staff.
NO SUITCASING POLICY: There is a zero-tolerance suitcasing policy at Grocery Innovations Canada 2022. Any attendee who is observed to be soliciting business will have their registration terminated immediately without a refund.
REFUNDS: Requests for refunds must be received in writing by September 12th, 2022 and are subject to a $100 processing fee per form. Substitutions are permitted. Registrations received after September 12th, 2022 are non-refundable. Trade Show ONLY registrations are not eligible for refund at any time. In the event that GIC 2022 is unable to take place at the stated dates all registrations will be transferred to the next live GIC show.
LIABILITY CLAUSE: I agree to follow all GIC / CFIG Rules and Regulations and assume all risks associated with, resulting from, or arising in connection with, attendance at the Event and/or participation in Event-related activities, including, without limitation, all risks of theft, loss, harm, damage, illness or sickness (including those caused by caused by infectious or communicable disease such as COVID-19 or any variant, H1N1, or any other illness or sickness caused by viruses),or injury to the person (including death), whether caused by negligence, intentional act, accident, act of God, or otherwise, and whether occurring before, during or after the Event, as the case may be. I agree that neither GIC / CFIG nor its agents, officers, directors, members, contractors or employees shall be liable for illness, sickness or injuries to the person (including death) resulting from, occurring at or arising out of the Event or any Event-related activities or for any indirect, incidental, consequential, special, punitive or exemplary damages; and releases and discharges such persons and entities from, and covenants not to sue such persons and entities with respect to, any and all risks, injuries, losses, damages and liabilities described herein.
ADMITTANCE: Grocery Innovations Canada 2022 is a business event. All registrations are subject to approval of GIC staff. Entrance to GIC is subject to approval of the Toronto Congress Centre and its polices at the time of the event. Please click HERE for more information.
PRIVACY: Information collected is used for registration, demographic, marketing and sales purposes.
MEDIA: Grocery Innovations Canada 2022 together with media partners will be documenting the event. Products, attendees, and participants may be photographed, recorded or interviewed for possible publication.
FUNDS: All prices are quoted in Canadian dollars. HST #R105201024